914United

914United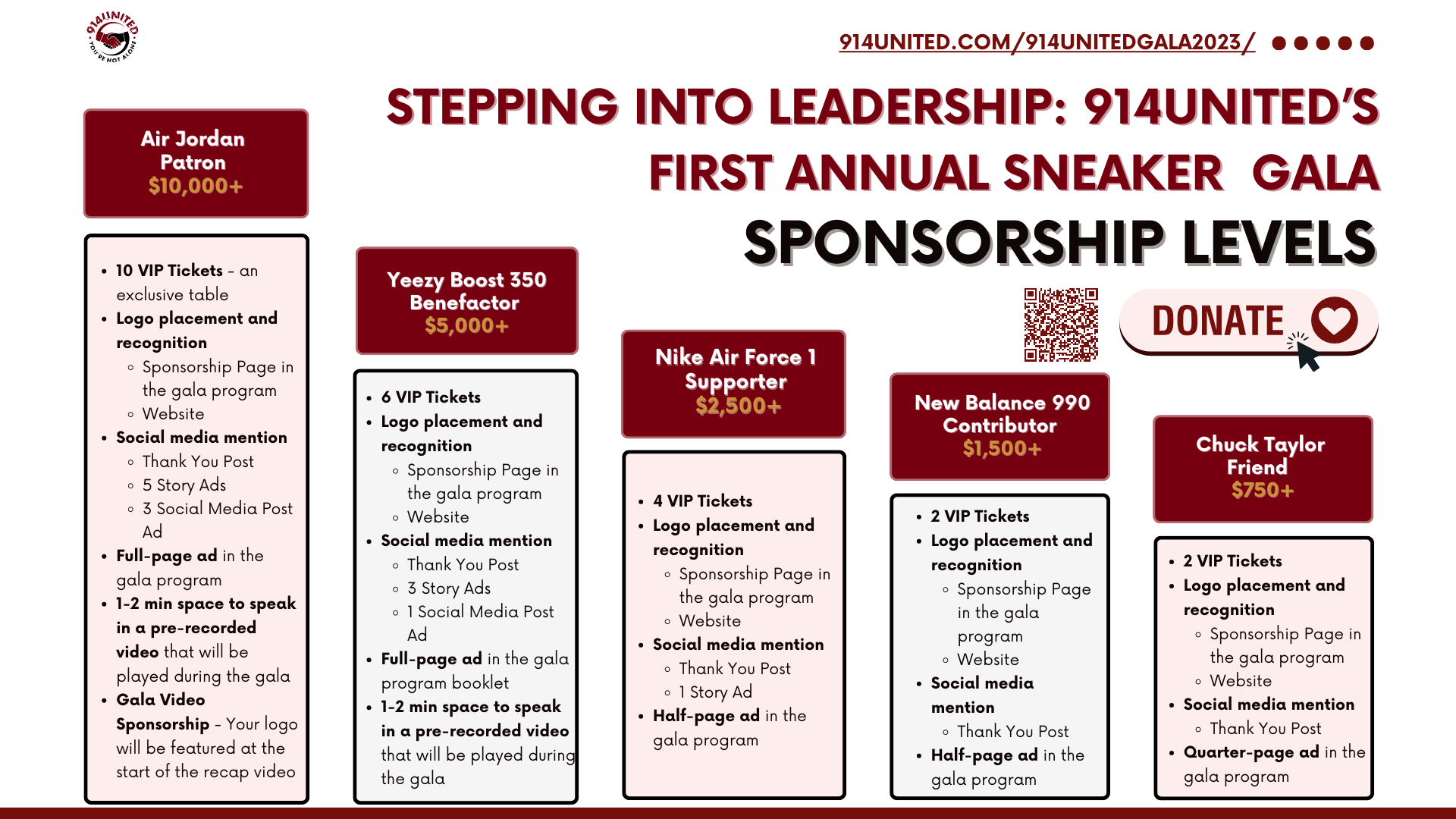 Become a Sponsor for Stepping Into Leadership 2023: 914United's First Annual Sneaker Gala
Click Here to Enlarge the Banner Image
Help Us Secure a Space to Call Home
We work on the frontlines of criminal-legal reform, gun violence prevention, and positive youth development, to create communities that help those impacted by the criminal-legal system sustain a positive and productive lifestyle. Please help us triple our impact in 2023 by supporting our campaign to secure a community space to call home.
A Proud Legacy
Over the past three years, we have laid the groundwork for change in the Lower Hudson Valley. We've proudly served 2,500+ youth and justice-involved individuals, providing them with vital resources, educational opportunities, and a pathway to empowerment. Our personalized case management and mentorship have not only ignited growth but have also paved the way for healing. Our success stories are a testament to the fact that with the right support and community, individuals can rebuild, relearn, and redefine their futures.
Why is this so important?
Physical spaces aren't just bricks and mortar; they are hubs of unity, connection, and consistency. Imagine a place where our mentees can gather, safe from the challenges of the streets, and receive in-demand services and leadership guidance. As we establish ourselves as an unwavering support system in our community, securing this space becomes not just a goal, but a necessity.
The Nitty-Gritty
Cost: $40,000 annually or $3,000 monthly.
Covers: Rent, utilities, maintenance, and necessary building permits.
Location: Radford Street & South Broadway - a crucial juncture in Southwest Yonkers.
Why Here?
This area is uniquely positioned: it's a place where young people are often influenced by gangs, where those entangled with the justice system seek a second chance, and where there's an undeniable gap in resources. We want to fill that gap. Southwest Yonkers doesn't just need another organization; it needs one rooted in relationships, community-building, and with a specific focus on aiding those who've experienced the justice system firsthand.
You Can Make a Difference
Our campaign is an open invitation. We invite you to be part of a transformative movement. Your donation is more than just money - it's an investment in the lives of countless individuals, a pledge to uplift an entire community, and a testament to the power of collective action.
Together, we can create a haven in Southwest Yonkers. A space that resonates with hope, growth, and unyielding support. Join us in making this dream a reality.